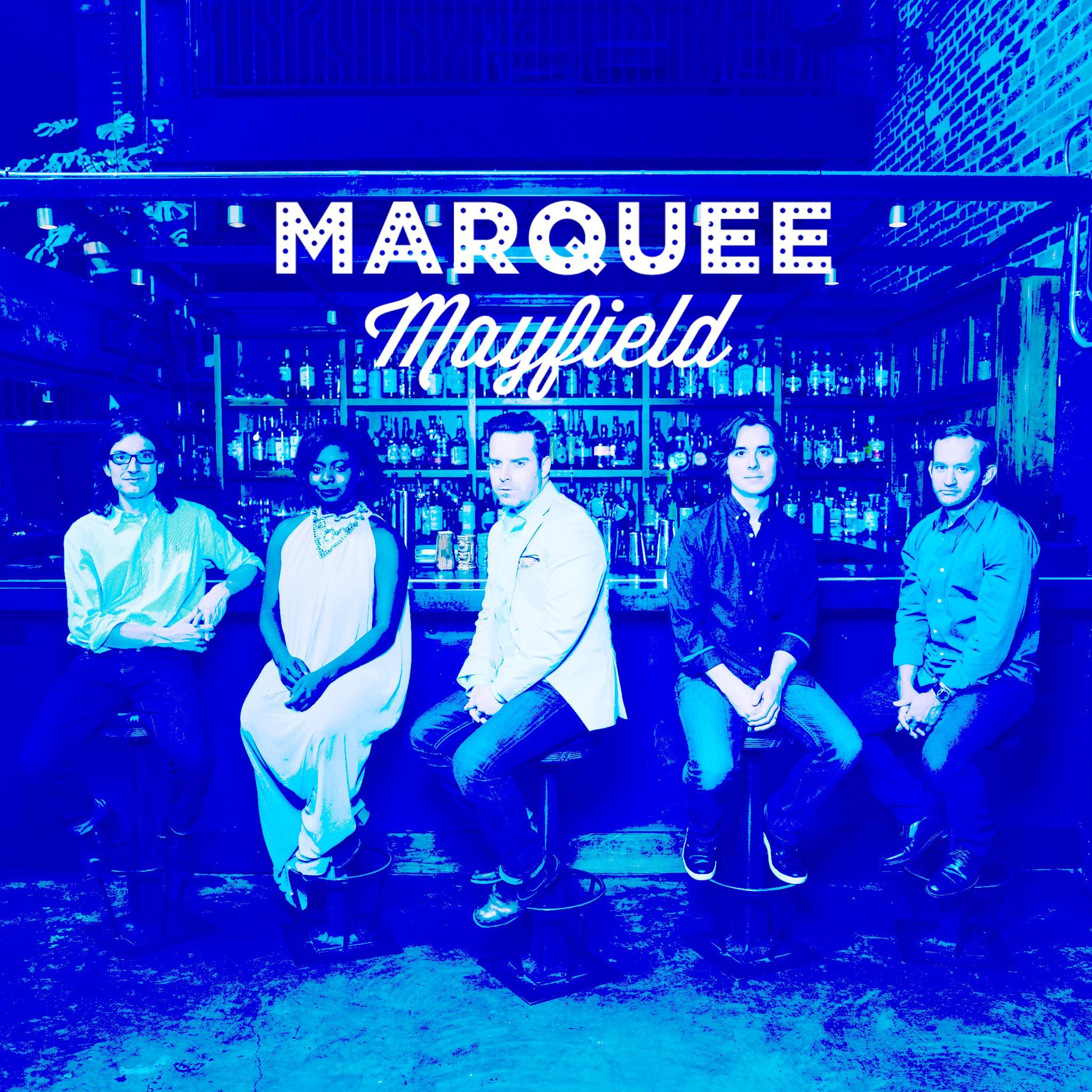 The One Stop at Asheville Music Hall
10:00pm
Donations @ Door
The upbeat, fun attitude with which Marquee Mayfield conducts themselves is one reason their approach to pop-fusion, funk and soul music works. Reimagining the sounds of previous eras while in an evolving musical tapestry, they sound at ease with their arrangements but with an infectious mentality, capable of making the most docile listener want to get up and dance.
That energy and passion reverberates throughout Marquee Mayfield's most recent project, Save The Night. The May 26th release marks their debut full length album. It's a penetrating fusion of pop, R&B, soul and funk given voice by each member of the 12 piece ensemble.
The album's groove-laden single "You Make Me So Very Happy" finds Glass wielding his mighty pen as a songwriter. "The name comes from Lou Rawl's song of the same title. I wanted to invoke that feeling we all know of when you are in love with someone," explains Glass. You can hear the Jamiroquai-esque influences of major7 and minor chords interwoven throughout the soul-funk-fusion, creating a backdrop for the impassioned lyrics.
Paying homage to the greats that came before them, you can hear the influences of Stevie Wonder, Jamiroquai, Earth Wind and Fire, D'Angelo and Prince throughout the seven song collection while still bringing their own form of funk to the stage. Front man Andrew Glass says, "I love those big arrangements that stem from a time in R&B music in the early-mid 70s. Artists like Curtis Mayfield (from which the group takes part of their name), Leon Ware and Al Jarreau were big arrangers with luscious horns and large string arrangements, that's been a heavy influence on me and you don't hear as much of that in today's pop music."
Similar to some Nashville based bands that came before them, Marquee Mayfield got their start in the basement of their college home. Shortly after graduating, Glass and guitarist Landon Rives were inspired by all of the talent (and sometimes questionable talent) they were seeing around Music City. Glass says, "Landon and I just started going out to shows several nights a week at local places like Exit In and Mercy Lounge. Both of us had played in various bands and written songs. We'd watch groups perform and just thought 'why aren't we doing this?'" Marquee Mayfield, then known as Relapse, snagged their first gig at local hideaway, The End, almost a decade ago. Glass remembers, "I had no idea what I was doing, I just started driving around town to different venues asking them to book us. We managed to pack the house out that first night at The End, with friends and classmates and haven't looked back." Since then Marquee Mayfield has continued to make their mark on the live music scene around Nashville playing gigs such as Road to Bonnaroo and Rights of Spring, among others.
Now, Marquee Mayfield is deeply engrained in the musical community around Nashville. While they have their regular players, it's a community effort with a cast of rotating characters. On any given night you will see 10 -20 people on stage creating those big arrangements that the band is so fond of. One can typically expect to see Landon Rives and Adam Korsvik on guitar, Carter Murphey playing bass, Amber Woodhouse backing up Glass singing lead vocals. Other regular members include players from local favorites like Space Capone, Dynamo, Great Barrier Reefs, Music City Toppers, and the GED Soul family.
Marquee Mayfield's version of pop fusion is a long time in the making. Careful study by Glass and the other band members led to their own musical identity. Glass explains, "It's important what you listen to, because that's going to come out in your writing and playing. I grew up listening to mostly rock music and discovered funk in my early '20s. I look back now and think 'what was I listening to before I got into this stuff.'"
All of this has culminated in the release of their first full length album, Save The Night, co-produced by Glass and BlackCat Sylvester (FutureMan, Kids Meal, Jeff Coffin, Wick-it) at The Sanctuary Studio in Nashville, TN. Glass says, "I love getting in the studio with BlackCat, he's a true sound curator and has had such a big influence on the DJ scene here. Working with him on these past two projects really gave Marquee Mayfield a unique sound, tying that old school feel of the music in with the modern landscape of how music can be produced today. His synth-table is just as much of a voice on this recording as the instruments we used."