Explosively written and directed by Irish playwright Martin McDonagh (his first two films were In Bruges and Seven Psychopaths), the film is a launching pad for the combustible force of nature that is McDormand. She batters and cusses her way through the role, digging into McDonagh's ripe, raunchy language like the verbal feast it is. By Peter Travers, Rolling Stone
Shot on location in Sylva, North Carolina Three Billboards Outside Ebbing, Missouri, directed by Martin McDonagh (Seven Psychopaths) and starring Academy Award winner Frances McDormand (Fargo) just opened. Three Billboards was the first major production to shoot on location in Sylva since 1993s The Fugitive starring Harrison Ford.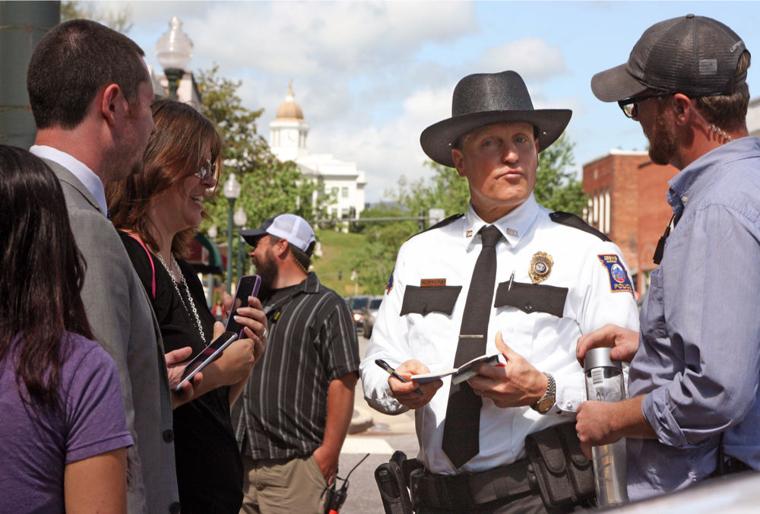 Three Billboards Outside Ebbing is the story of a mother, Mildred Hayes, who after months have passed without a culprit in her daughter's murder case, makes a bold move, installing three signs leading into her town with a controversial message directed at William Willoughby, the town's revered chief of police. When his second-in-command Officer Dixon, an immature mother's boy with a penchant for violence, gets involved, the battle between Mildred and Ebbing's law enforcement is only exacerbated.
At a town meeting in Sylva to discuss filming, McDonagh explained: "I'd like to promise that we'll make a great film that everybody can be proud of, that will show Sylva in a great light to show how great it looks, and that you'll be not too inconvenienced but once it's all over be really proud of what we made together."

With regards to why Sylva was chosen, Location Manager Robert Faulkes added: "North Carolina had recently brought back their tax incentives, but that gave the incentive to the production company to want to come here… we weren't necessarily sold on anything we had seen in any other states, and we jumped on the chance."
North Carolina's film incentive program previously operated by allocating tax credits, but since January 2015 the it has shifted to offer a 25% grant rebate with an annual cap of USD30 million. The required minimum spend varies between types of productions: USD5 million for feature films, USD1 million per television episode and USD250,000 for commercials.